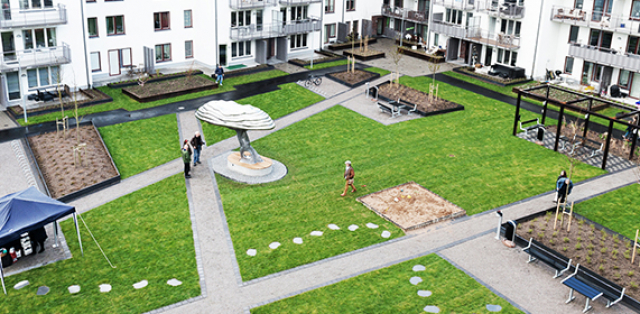 Business idea & goals
John Mattson makes daily life easier for everyone by offering well-managed, attractive homes and safe neighbourhoods.
Our business idea revolves around the long-term ownership, management and development of residential property and attractive local communities in the Stockholm region.
Financial targets
Our financial targets:
An average annual growth in EPRA NAV per share of not less than 7 %, including distributions to shareholders, over a business cycle.
An average annual growth in income from property management per share of not less than 10% over a business cycle.
Financial assets
The company's long-term loan-to-value ratio may not exceed 50%.
The company's interest coverage ratio may not drop below 1.5.
Dividend policy
Over the long term, dividends are to amount to 50% of annual income from property management after taking into consideration the company's investment plans, consolidation needs, liquidity and overall financial position. Dividends may be less than the long term goal or be fully absent.

Sustainability targets
Safe neighbourhoods as assessed by residents: to outperform the sector average for comparable properties.

Attractive areas according to the residens: above the sector average.

By 2030, John Mattson will have reduced its Scope 1 and Scope 2 greenhouse gas emissions by at least 40 % compared with the base year of 2021.

John Mattson will reduce its greenhouse gas emissions from new builds and redevelopments on a per square metre basis to match or better the property sector average.

Engaged employees and an efficient organisation: above the average results of comparable companies.

John Mattson has an inclusive culture that anables the company to attract and retain employees with various backgrounds and perspectives. The recruitment process is competence-based and free from discrimination.

The proportion of women or men is not to exceed two thirds within the company, management and the Board of Directors.

Absenteeism among John Mattson's employees: not exceeding 3%.

John Mattson aims to have zero accidents leading to absenteeism of over one day at our workplaces. This applies both for John Mattson's own personnel and for contracted personnel working for John Mattson.