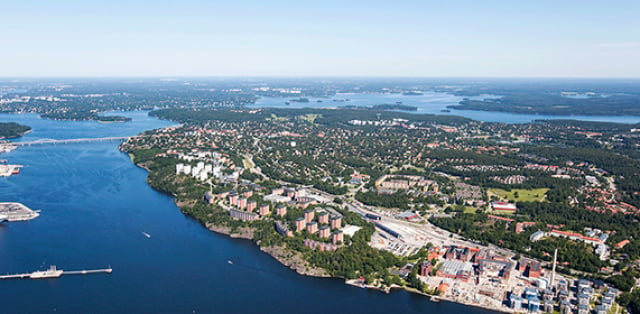 Our areas
Larsberg
John Mattson's property portfolio in Larsberg consists of 28 buildings across 20 properties with a total lettable area of 124,000 sq m. Twenty-four of these buildings date back to the 1960s, and a few others were built in the 2000s. Larsberg Park and its playground, outdoor gym and football pitch, all owned by the municipality of Lidingö Stad, are located in the heart of Lidingö.
Käppala
John Mattson established itself in Käppala in 2018. Our portfolio was completed in the 1960s and consists of 481 apartments on Merkuriusvägen and Jupitervägen.
Dalénum
John Mattson owns one property from 2015 in the historic AGA factory neighbourhood Dalénum on Lidingö, with 146 new build apartments.
Baggeby
Our two buildings in Baggeby house a total of 83 apartments. The buildings are on Farkostvägen and Barkassvägen, with a view over Stockholm.
Rotsunda
In Rotsuna, John Mattson owns 12 buildings located a five-minute walk from the commuter station in Rotebro. The houses include apartments as well as commercial facilities.
Rotebro
In Rotebro, John Mattson owns 19 apartment buildings in a cohesive residential area right next to the commuter station as well as a grocery store, a health center and other services.