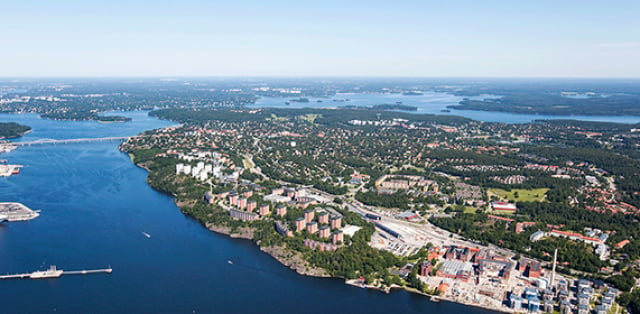 Our Areas
In recent years, John Mattson has transitioned from being a family-owned company with properties on Lidingö to becoming a publicly traded company with a presence in five municipalities in the Stockholm area: Lidingö, Sollentuna, Stockholm, Nacka, and Upplands Väsby. These municipalities all have favorable market locations, excellent transportation, and good expansion opportunities that align well with John Mattson's ambitions to manage and develop pleasant and secure homes and local communities.
Lidingö
Lidingö is John Mattson's largest management area, both in terms of the number of apartments and property value. Builder John Mattson built the company's first residential area here in the 1960s. Lidingö is close to water, parks, green areas, and has excellent public and private transportation, making it a highly attractive municipality to live in.
The areas of Larsberg and Käppala are John Mattson's largest residential areas on Lidingö, comprising a total of nearly 2,000 apartments. In Larsberg, John Mattson owns the majority of the land, apartments, as well as facilities for university education and grocery stores. The company's headquarters are also located here.
All older apartments in Larsberg have undergone basic upgrades, and comprehensive upgrades are ongoing. In Käppala, the entire property portfolio underwent extensive upgrades between 2019 and 2021, and new apartments were created.
North of Stockholm (Norrort)
Sollentuna, north of Stockholm, is an expanding municipality with nearly 75,000 residents. John Mattson's property portfolio here consists of approximately 1,000 apartments and commercial premises in the areas of Rotebro, Rotsunda, Häggvik, and Tureberg. All properties are in close proximity to or within a few minutes' walking distance from commuter train stations, shopping, services, and green areas.
The properties in Rotebro and Rotsunda were acquired in 2019 and taken over in 2020. The apartments were built in the 1970s and 1950s, and is requiring a renovation. Upgrading of the apartments in Rotebro is planned to begin in 2024. Upgrading of the apartments in Rotsunda is planned to be carried out after the upgrading work in Rotebro is completed.
In 2021, John Mattson acquired over 450 apartments and commercial premises in Sollentuna, in the areas of Häggvik and Tureberg. The buildings in Häggvik were constructed in the 1940s and 50s, and those in Tureberg were built in the 1970s.
In 2021, John Mattson also acquired a development property in the Vilunda district of Upplands Väsby. The residential project, called Noden, consisting of 73 rental apartments and facilities on the ground floors, was completed in the last quarter of 2022. Noden is Stockholm region's first multi-family house for sustainable mobility without the need for private parking spaces.
City/Bromma
In the City/Bromma area, John Mattson's management portfolio includes properties in Slakthusområdet, Hammarby Sjöstad, Johanneshov, and Abrahamsberg, with buildings dating from the early 1900s to 2017, with most from the 1940s.
Development properties are located in Abrahamsberg and in Söderstaden (an urban development area consisting of the Globen area, Slakthusområdet, and Gullmarsplan-Nynäsvägen).
A detailed plan has been adopted for the construction of a nursing and care facility on the property Geografiboken 1 in Bromma.
In the expanding Slakthusområdet in Söderstaden, planning work for the construction of new residences began in the first quarter of 2022, with a preliminary construction start in 2026. John Mattson's land rights have an attractive location near the upcoming subway entrance in the area.
South of Stockholm/Nacka
In South of Stockholm and Nacka, the portfolio is mainly concentrated in Hägerstensåsen, Västberga, and Örby.
The portfolio in South of Stockholm/Nacka consists primarily of properties built in the 1940s and 2000s-2010s.
In South Stockholm/Nacka, John Mattson has several development properties in various stages. In Örby centrum, a new production project for rental apartments, retail spaces, and LSS housing is underway, along with planning for an apartment upgrade project.
In Örnsberg, John Mattson holds a land allocation where detailed planning is ongoing for the construction of rental and condominiums, premises, and a preschool. On the property at Finnboda kaj, acquired in 2021, there is a building right where John Mattson plans for the development of residences.