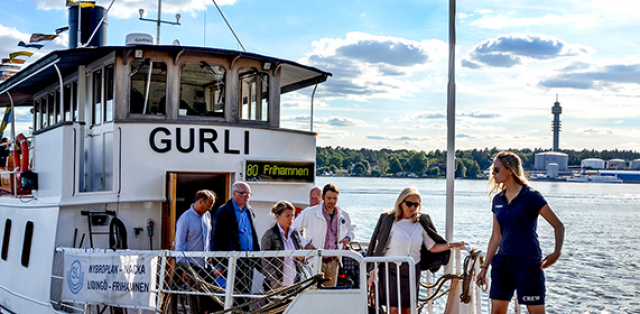 Sustainability
John Mattson's values are based on a long-term approach, and the sustainable perspective is a self-evident and central part of our business. We have owned the majority of our property portfolio for over 50 years, while the new additions have been acquired with a view of owning and managing them for the long term. Taking good care of properties as well as tenants to maintain stable and long-term relationships in a well-managed environment is a priority.
John Mattson has high ambitions and actively works with its long-term sustainability agenda in all areas of operation. The majority of new construction that has begun during the last ten years has been on our own land on already-paved surfaces. With new construction, solutions and material with long lifespans are selected to ensure long-term rational and efficient management. Public spaces are practically and functionally designed, with high-quality materials and solid surfaces. Facade materials are to be sustainable for the long term and age well over time.
During an ongoing construction process, we require our contractors to properly recycle construction waste. Tenants can sort their food waste, which is collected and used for biofuel to operate buses in Stockholm. We optimise operations in various ways to reduce the consumption of and costs for electricity and water, including through regulating heating based on different weather condition factors. The electricity we use is environmentally friendly and the majority of properties have motion-detecting LED lighting throughout stairwells, garages and most shared spaces. In new builds, hot water is measured and billed individually, which reduces consumption and gives tenants the opportunity to affect their own living costs.
Societal sustainability
Master builder John Mattson's vision for Larsberg was to provide housing as well as childcare, retail and services within the residential neighbourhood. We continue to take responsibility for the entire neighbourhood, based on the goal of creating great neighbourhoods across generations. The societal sustainability focus area is based on our Outdoor Areas concept, which aims to create meeting places in residential areas and to stimulate engagement among tenants through activities and events. The activities create relationships and strengthen the brand through John Mattson's societally aware ownership while ensuring long-term business advantage by strengthening and highlighting the areas' qualities. We work strategically with annual activities together with tenants and other actors, including the municipality of Lidingö Stad. Examples of recurring initiatives include outdoor movies, sports events, flea markets and grill evenings arranged in our neighbourhoods. The concept is an important part of our sustainable customer management and contributes to lively and attractive local communities, where people thrive and feel safe.